i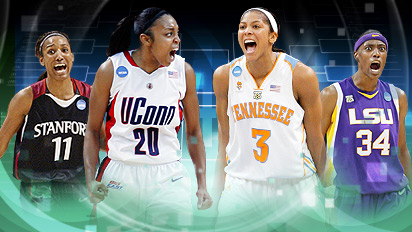 I love this picture of Candice Wiggins, Renee Montgomery, (not Maya Moore as I assumed), Candace Parker and Sylvia Fowles on the front page of the MAIN ESPN site. These four women have led their teams to the final four with just the kind of passion shown in the image. For a few minutes in both games last night it looked like it could be all #2 seeds in the final four.
After Candace Parker was forced to leave the game after two dislocations of her shoulder, Texas A&M had the opportunity to make a run. They were only down 2 points at the half and Parker was gone for more than 7 minutes to start the second half, but Texas A&M failed to pull away. Parker returned and even with her at 50%, the Lady Vols started playing like defending champions again. Alexis Hornbuckle hit a ridiculous shot (one she probably shouldn't have take) from back in Tennessee that gave them a five point cushion. Pat Summit leapt in the air (as did most of the bench) pumping her fist. You could tell after the game that it was one of those coach "No, no, no, YES!" moments for her. Though Alexis had struggled with her shooting for most of the game, she had the senior, clutch moment at the right time. Tennesse was all Parker (26 points, 5 rebounds, 2 blocks, 2 steals and an assist) and Hornbuckle (14 points, 5 rebounds, 4 assists and 4 steals) with a little Shannon Bobbit (9 points, 2 rebounds, 2 steals and an assist) thrown in for good measure. Neither team got anything from their bench, but the Aggies managed to get three starters in double figures (Starks 12, Franklin 11 and Gant 10).
In the second game of the night, Rutgers came out with a mission and looked for a while like they might run away with the game. Rutgers defense simply blanketed Maya Moore with a modified box and one style defense. Two of her three baskets came off uncontested layups made from two of her five steals. She only got seven shots for the entire game. For Geno's Huskies, the scoring had to come from somewher else and Ketia Swanier (15 points, 3 rebounds, 4 assists) and Renee Montgomery (15 points, 2 rebounds, 2 assists, 3 steals and a block) stepped up their game. Rutgers didn't have much more luck from their scorers, sophomore Epiphany Prince (remember her 100 point HS game from two years ago?) only managed 7 and senior Essence Carson was held to 12 points, 12 rebounds, and 2 steals. Rutgers went small and fast, which helped them at the start of the game, but hurt them in the long run...they did not have a single block in the game. Carson played well and will be a nice draft pick for some WNBA team on Wednesday.
The Final Four kicks off at 4 PM PDT on ESPN this Sunday.